A Brief and Incomplete
History
of the
Tennessee Valley Homebrewers
– Knoxville's own homebrewing club
July 2020, by John Bolt
Genesis:
The first Knoxville homebrewing club was started by Ron Downer in the early 1980s. The club began meeting at various members homes and called itself Smokey Mountain Homebrew club. Later it renamed itself the Hillbilly Hoppers. An earlier club, the East Tennessee Brewer's Guild, formed in Oak Ridge in the late 1970s, and practiced extract brewing. Ron's vision was to encourage all grain brewing. He built the Brewhaus, a homebrew supply shop at his home on Ball Camp Pike. Brewing demos on the Brewhaus deck, brew-outs and homebrew parties became frequent happenings. Homebrewing in Knoxville took off.
By the early 1990s Ron was taking on professional brewing jobs and the club's active members, including Tom Karnowski, John Yust, Jeff Colfer, and David Smith, took over the club's direction. The club changed its name to the Tennessee Valley Homebrewers and the focus on camaraderie, exchanging brewing knowledge, and enjoying various beer styles continued. Communication included regular newsletters, and activities included meetings, campouts and other various outings.
Between brewing jobs Ron formed another homebrewing club in the early 1990s in the Knox and Sevier county area and recaptured the name – Hillbilly Hoppers. But by the late 1990s it merged with Tennessee Valley Homebrewers (TVH) and membership drew homebrewers from Crossville to Jefferson City and Maryville to Clinton with Knoxville as the center. For a number of years, the official name, that used for AHA competition entries, was 'Tennessee Valley Homebrewers – Hillbilly Hoppers'. Club meetings, brewouts, demos, and social gatherings nurtured homebrewing in the area.
Ron Downer also organized a local Belgian Beer Appreciation Society circa 2009, held tastings, and published 12 issues of The Burgundian Bulletin.
Ron Downer, circa 2016
The 1990s:
The 90s established club activities that continue to the present (2020). Brewouts and parties highlight the memories of many members. "Wing Flings" were held somewhat annually at the Tennessee Valley Winery in Loudon County. In addition to sharing homebrew, Bar-B-Qing wings, and sharing pot-luck dishes, several brewing demos were held at the Wing Fling. Campouts became popular at the "River's Edge" campground in Townsend and other sites.
Active members in the 90s included Brian Jackson, Bill Walton and Jim Hilty as well as those previously mentioned. One member quipped "being in the club really improved my brewing", a sentiment echoed time and again to this day. Early adoption of the internet included a TVH club website hosted by KORRNET, the Knoxville Oak Ridge Regional Network.
Interest in the Beer Judge Certification Program (BJCP) took root, and around 1995, four members (Colfer, Yust, Smith and Karnowski) drove to Memphis, TN to take the exam at Bosco's, Tennessee's first brew pub. Trips to homebrew competitions as judges included destinations from Charlotte NC, (for Blues, Brews and Bar-B-Que) Atlanta GA, Lexington KY and Cincinnati OH (for a keg-only competition). By the end of the decade several members reached BJCP National rank as judges. Brewing to style was emphasized in meetings and in the newsletter.
In the late 90s the TVH club hosted several competitions with sponsorship and co-hosting by Metro Pulse, an alternative weekly newspaper published for many years in Knoxville. These bottle competitions were judged in the BJCP system as part of the Southeast regional series and drew about 300 entries by the end of the decade. The sixth and last in this series was held in 2001.
Brewers' Jam: Knoxville Brewers' Jam was first held in 1997 and naturally several TVH members attended. Knoxville Brewers' Jam benefits Community Shares an umbrella charity organization in the area. By the third year TVH was supplying volunteer workers and serving homebrew – the only homebrew club to do so. This has been a tradition ever since, and Brewers' Jam held its 23rd annual jam in 2019. The Jam was first held on the lawn between the Knoxville civic auditorium and the police station, then in the parking lot of Barley's Taproom, the World's Fair Park for many years, and recently returned to its original site. TVH members typically assisted in receiving kegs from breweries unassociated with distributors to the refrigerator trucks the evening before, distributing these along with loads of ice to the serving tents during the event, and helping breakdown the tables and clean up the site. Serving beer at Brewers' Jam is a blast! Many members contributed one or more 5 gallon kegs of homebrew to serve. Visiting the TVH tent has been a highlight for many repeat jam goers. In the second year TVH served at the Jam, Jay Schrade made a toasted coconut porter that became a fan favorite. The recipe started as an AHA NHC best of show winner. Jay got the recipe from Zymurgy magazine and tweaked it several times, including for the Cincinnati keg competition. It has been brewed for every Knoxville Brewers' Jam since, almost all by Jay, but recently by other TVH members. As many as 8 corny kegs of toasted coconut porter were made for the Jam in a single year due to the demand. Mark Moynihan suggested making and selling pretzel necklaces at the Jam and this activity began in the mid 2000s. Necklace sales continued through 2017. Gathering Thursday night before the Jam to assemble the necklaces at mushroom growing supplier Everything Mushrooms (owned by members Bob Hess and BJ Brock) became yet another opportunity to share home brew, pizza and tell tales. For a number of years on the Friday night before the Jam a bodacious party for the brewers and volunteers was held downtown with food and donated beer.
Steve Dixon serving at Brewers' Jam 2008.
Joe Edidin in TVH Tent at Brewers Jam 2016.
The 2000s
John Peed, Dennis Collins, Jonathan Shireman, and Paul Hethmon became active TVH members in the 2000's. Highlights include the Cumberland Kegger, continued participation in the Knoxville Brewers' Jam, local BJCP training, and various competitions.
The first Cumberland Kegger was held in 2003. The problems of holding and judging so many entries in bottle competitions by a small club led to the idea of a keg competition. Kegs brought by the entrants ensured judges onsite. Jay Schrade volunteered to host the competition at his farm in Crossville, ideally located for drawing Music City brewers as well as TVH brewers. The invitation to camp overnight at Jay's struck a chord and the idea to add a big volume brew and a pig roast took hold. Jay found a 110 gallon stainless honey separator on the Route 127 yard sale. Steve Martin bought it for $35 and converted it to a boil kettle. From the get-go the Cumberland Kegger was a three-part affair:
1) judging the keg competition and awards
2) the Big Brew
3) a pig roast
The pit was dug, lined with stones then coals, the pig wrapped in burlap and everything covered on Friday night for the Saturday feast. The Cumberland Kegger attracted brewers from Music City, Atlanta, the Chattanooga Barley Mob, Johnson City State of Franklin brewers, as well as TVH. With potluck sides for dinner, the opportunity to sample the winning beers, and no need to drive home, it was a wang-dang-doodle of a day! Eventually it reached a level of local notoriety that Cumberland county politicians even attended to campaign in election year. One afternoon Jay counted 90 cars parked in the field. After 4 or 5 years the event moved to a new location for 2 more years.
Jonathan Shireman and Brian Jackson at the first Cumberland Kegger
Brewouts at members' homes continued. One memorable February in about 2002, Dennis Collins hosted on a day the temperature plunged to below zero. Brewing was delayed by a water leak in his basement which opened onto the outside shaded brewing area. Brewing water froze as soon as it hit the ground, but the brewers were undaunted. The Ice Brew was born, and the tradition continues to this day.
During the 2000s the club grew from about 20 to 55 members in 2009. As it grew its direction, budget decisions and general management were assumed by a steering committee formed in 2008. Brian Jackson, Bill Walton, and Graham Adams served as president in various years. The club produced a newsletter for several years, and in 2008 Jonathan Shireman passed on editorial duties to Dennis Collins. He began electronic publication and was editor until 2011; Paul Hethmon became editor for the next 3 years. These newsletters had many useful articles on brewing by various authors, mostly club members. Also, the club web site was moved to its current address in Dec. 2008. After 2013 monthly newsletters ceased; announcements and reporting shifted to the website and more often through the email list.
The TVH logo is a smiling bear, sitting against a hollow log, raising a mug of beer, wearing sunglasses and a pretzel necklace with a backdrop of green snow-capped mountains. 'Tennessee Valley Homebrewers' brackets the logo above and below. This iconic image was designed soon after the name change in the 90's with help from a local t-shirt shop. The final touch – the pretzel necklace – was added in the 2000's by Dennis Collins. Dennis and Paul adorned the bear with seasonal or topical attire for each newsletter.
TVH Logo.
Mugs, steins and glasses from 2009 with the club logo are now collectors' items!
Bill Walton organized one of the earliest BJCP courses in Knoxville. Six or seven TVH members took the course. Walton also organized the annual Saint Patrick's Day party during this period. Alan Ley, and Rob Meyer organized the first area water analysis for the club. This task was taken up later by John Peed; results for various water area sources are available on the TVH website.
John Peed has served as club treasurer for many years. He was the driver for many club projects in the 2000s including organizing for the Jam and BAMO (see below). John became active in the MCAB – the Masters Championship of Amateur Brewing and ran it for a few years starting in 2009. MCAB is a yearlong competition with points accumulation necessary to qualify for the final round.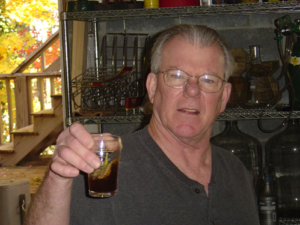 John Peed in 2008
BAMO: Big Ass Malt Order was an opportunity to purchase grains at economical rates. Starting in 2004 members signed up for 25 Kg or 50 lb. sacks of grain, or for partial sacks. When enough for a pallet or two were tallied, the order was made through North Country Malt Brewing and later through Brew Craft. In 2014 the 26th BAMO purchase was made through Ferment Station, our local homebrew supply store. The last BAMO was in 2016. With shipping costs, competing prices on-line, and deals locally, the benefit of large collective orders faded.
Club meetings, competitions, and classes were held at various locations in the 2000s. Frequently the club was welcomed at Calhoun's, then at Smokey Mountain Brewery for these events, thanks to Marty Velas the head brewer there in those years.
The 2010s
Notable events from the 2010s include the Big Ass Brew, the Pig Roast at Paul Hethmon's home, Homebruin (the annual club member-only competition), the lager competition, Christmas and other holiday parties at Don Cox' home, HIB projects, and barrel projects. TVH membership grew as the craft beer craze swept the world. The club peaked at 99 members in 2016 and stood at about 70 in 2019. Joe Edidin, Micah Sweeney, Daniel Hillesheim, and many others became active in the club in the 2010s.
Big Ass Brew: As the new decade rolled in, the tradition of a spring time big brew continued at Graham Adam's home on his one-barrel size equipment. It soon was dubbed the Big Ass Brew. The summer party held to drink it was at Jason Tucker's for a couple of years. In 2013 Paul Hethmon volunteered to host it. He had 'smoking a whole pig' on his bucket list and voila, the modern day Pig Roast tradition began. Paul's tech savvy automated the overnight cooking of meat including hourly email updates. But the big draws were unveiling the main course, the plethora of creative side dishes brought by homebrewers, family and friends, and of course homebrew, especially the products of the spring big brew. Like the big brew at the Cumberland Kegger, the Big Ass Brew offered the opportunity to compare yeast strains and fermenting conditions on a single wort split to multiple fermenters.
Tom Karnowski demonstrating decoction mashing at the Big Ass Brew in 2011.
TVH members continued their judging training with several local BJCP classes taught by Matt Raby. Joe Edidin and local profession brewer Jordan Skeen (Clinch River Brewing) have also taught the class. As of 2018 there were 38 active BJCP judges in the Knoxville area, most of them are TVH members. These include at least four with National rank. A number of ranked BJCP judges from earlier decades have let their status lapse to inactive, but they can reactivate simply by judging another competition.
The brewing prowess of TVH members is evident; NHC Finals Gold Medal winners include Jay Schrade for an Imperial IPA, John Peed for a Best Bitter, and Joe Edidin for a Kolsch. Quite a few members can brag on their medals in both regional and final NHC competitions.
Several members have gone on to brew professionally, including Ron Downer, Jesse Bowers, Stuart Gorman, and Rodney Ramin. Several other professional brewers are TVH members including Marty Velas.
The Homebruin Cup competition began in 2011. Previous internal club competitions were frequent but informal and irregular. Homebruin has been a club-only event since 2012. It is usually held in May with BJCP judging, bronze, silver and gold medals for each table, and 1st, 2nd and 3rd place best-of-show awards from the table winners.
Homebruin Cup Best of Show Winners
| | | |
| --- | --- | --- |
| year | | Style |
| 2012 | Paul Hethmon | Scottish 80 |
| 2013 | John Peed | Best Bitter |
| 2014 | Michael Caylor | Imperial IPA |
| 2015 | Michael Caylor | Dark Mild |
| 2016 | Jesse Bowers | Wild Specialty |
| 2017 | John Peed | Best Bitter |
| 2018 | John Bolt | Dark Mild |
| 2019 | Kris Mear | Chocolate Coffee Oak Stout |
| 2020 | — postponed | — virus soup |
| 2022 | Gerry & Jonnie Lynch | English Barley Wine |
The club also held a more informal lager competition, sometimes in the fall but recently in February or March. A German style bier stein was purchased in 2014 for the winner and is passed to the new winner each year.
The club began celebrating National big brew day (originally National homebrew day) in 2011 with a party and brewout at George Barnet's home where previous spring flings had featured a low country boil.
Bus trips to Asheville, local brewery tours and enjoying the growing Knoxville craft brewing scene were all part of club activities.
Over the years various TVH members have hosted the club for flings, parties, brew outs, and cookouts from the Ice Brew and St. Patrick's Day to New Year's Eve. Their graciousness and generosity seems limitless. Thank you! The first Christmas Party at Don Cox' home was in December 2009. It became a tradition and continues to the present. He cooks a roast main course with guests bringing many interesting sides, and of course, homebrew plus rare and tasty craft brews from far and wide. Members, family and friends are welcome to good food, good beer and good fun.
Other venues for our social meetings included monthly meetings at Casual Pint in Hardin Valley on trivia night. A second monthly get together has been at Crafty Bastard West where Aaron McLain often provides his experimental brews. At the Casual Pint Hardin Valley, Tom Hohaus, the owner, has generously hosted recent club competitions. In addition, TVH held a tap takeover there, with members brewing kegs for an informal competition and ticket fees going to charity. Three similar tap takeovers were held in the late 2010s jointly with the Blount County Homebrewers as a friendly cross-county border battle.
Joe Edidin in recent years hosted the 'Ice Brew' in February. Joe also has been tireless organizing various activities and reminders in the 2010s, including Homebruin Cup competitions, the border battle tap takeovers with the Blount County Homebrewers, interactions with local microbreweries, and virtual meetings on Zoom during the 2020 pandemic.
HIB – How am I Brewing?: John Peed initiated these in 2013 with two tries at an ESB and Mission Street Ale clone. The idea was to have all participants brew the same recipe and compare them. Usually grain and hop costs were partially funded by the club and bought collectively. It was a fine opportunity to compare different brewing methods and to assess results versus the many great brewers in the club. Twelve HIB projects were run (dates are approximate):
HIB I

06/2013 – ESB

HIB II

09/2013 – ESB

HIB III

10/2013 – Mission Street Pale Ale Clone

HIB IV

02/2104 – American Amber Ale

HIB V

04/2014 – Blonde Ale

HIB VI

06/2014 – Sierra Nevada Pale Ale Clone

HIB VII

11/2014 – English Brown Ale

HIB VIII

01/2015 – California Common

HIB IX

04/2015 – American IPA

HIB X

04/2016 – Old Ale (went into the first barrel project)

HIB XI

07/2017 – Best Bitter

HIB XII

03/2018 – Irish Red Ale (extract kits)
Barrel projects took root out of the HIB projects. Members brewed the same recipe, with grains and hops sourced jointly. The first barrel project, led by Daniel Hillesheim, was an Old Ale aged in a Caribbean rum barrel obtained by Todd Zachary from an Asheville brewery. It went in the barrel in May 2016 and out in October. The second project was a Flanders Red in the same barrel with everyone using the same yeast (a commercial blend of Belgian sour yeasts). It entered the barrel in February 2017, was topped up in June and kegged in October. It was agreed to be an excellent sour. Micah Sweeney organized the third, a Russian Imperial Stout using a barrel from Heaven Hill distillery – in the barrel in April 2019 for 4 or 5 weeks. Next was a barleywine – a Sierra Nevada Bigfoot clone. It aged about 7 weeks. The third in that barrel was a Belgian Tripel, aged September to December of 2019. The most recent is an Oud Bruin (Flemish brown), kegged in June 2020 after 18 weeks in the barrel. All of the barrel aged brews have been warmly received.
Collaborations: Several TVH homebrewers have had their creations reproduced at local breweries. Paul Hethmon's Scottish 80 from Homebruin II was brewed at Smokey Mountain Brewery, thanks to head brewer Marty Velas, now with his own operation Fanatic Brewing. Mike Caylor's Mild, Joe Edidin's English Table beer, and John Peed's Best Bitter were brewed at Abridged Brewing, thanks to founder Jesse Bowers, formerly an active TVH member. Jim Moore's Green Tomato Gose and Joe Edidin's Amber Lager were brewed at Crafty Bastard, thanks to Aaron McClain, cofounder and brewer.
Many thanks to local businesses:
Ferment Station has hosted learn-to-homebrew day since about 2014, providing space, brewing ingredients, and lunch for the events, thanks to owners Darlene and Wayne Pearson.
Casual Pint Hardin Valley has hosted similar public brewing demos by the club, BJCP exams, the Homebruin competitions including accepting entries to their cooler, all thanks to owner Tom Hohaus and his employees. In addition, Casual Pint Hardin Valley has hosted our monthly Tuesday meetings (trivia night) in the 2010s.
Last Days of Autumn has hosted BJCP classes.
Crafty Bastard hosted monthly meetings at their Farragut location in Echelon Bikes for several years, providing samples of special brews not offered to the public until moving out in 2020.
Everything Mushrooms provided the space to make pretzel necklaces for Brewers' Jam for many years.
Resources:
Interviews: John Peed, John Yust, Tom Karnowski, Matt Raby, Jonathan Shireman, Paul Hethmon, Dennis Collins, Jay Schrade
Emails: Ron Downer, Micah Sweeney, Paul Hethmon, Daniel Hillesheim, Dennis Collins including the TVH news letters from 2008 through 2013.
East Tennessee Beer, A Fermented History, Aaron Carson and Tony Casey (2016, History Press). This book provides some history of beer making in the Knoxville to Bristol area and a substantial review of craft brewers and homebrewers in the area at the time it was published. Photos include TVH members Daniel Hillesheim and Scott Moody serving at Brewers' Jam, Matt Raby and Steve Dedman (Chisholm Tavern) at Thirsty Orange, and of course, Ron Downer.
Thanks to several members reviewing and editing the early draft of this document: Joe Edidin, John Peed, Tom Karnowski, Paul Hethmon, and Ron Downer.
The TVH Logo bear from newsletters in 2010.